Established in 2018, the UCI BioSci Ambassadors is the premier giving group for the UCI School of Biological Sciences. Transform your world by giving your time and expertise to exclusive programming, relevant scientific lectures, and networking events.
Who are BioSci Ambassadors?
The BioSci Ambassadors membership includes alumni, parents, faculty, staff, and friends. They set the standard of philanthropy through leadership gifts in support of the Dean's Excellence Fund. Members have found unity in advancing science regardless of contribution level. However, financially investing in training the next generation of Biologist is not the only benefit of joining. Since members come from all walks of life, members also enjoy the benefits of joining a network of like-minded individuals and connect with each other at exclusive events that build knowledge and contacts.
There are 4 membership levels. Additionally, each level of membership offer special recognition.
Ready to transform the world? Join the BioSci Ambassadors. All new members receive a special welcome gift!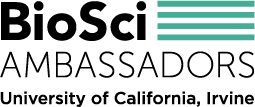 Get involved! Learn more: Become a UCI BioSci Ambassador
You can also contact us for more information: Meet the Giving Team