2016 Lauds & Laurels Ceremony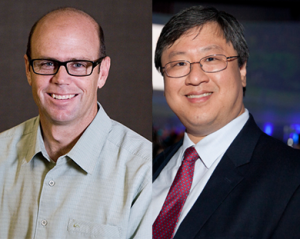 Professor Travis E. Huxman, Ecology and Evolutionary Biology, will receive the Outstanding University Service award at the 46th annual Lauds & Laurels ceremony.  Professor Huxman is the director of both the Center for Environmental Biology and the Steele/Burnand Anza-Borrego Desert Research Center.
The recipient of the Distinguished Alumni Award from the Biological Sciences School is Lester Ng '94.  Mr. Ng is an entrepreneur who has launched several companies involved in electronic medical record keeping.  Over the past few years, Mr. Ng has been dedicated to the Biological Sciences School's International Students Program, which lead to his nomination.
Please join us in congratulating Professor Huxman and Mr. Ng for their service.  The Lauds & Laurels ceremony will be held on May 12th at the [AV] Irvine, and Professor Huxman and Mr. Ng will be 2 of 18 awardees.