Biological Sciences School Alumni is a Current White House Intern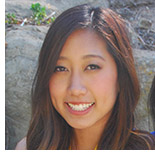 Christina Phan is a recent alumnae of the Biological Sciences School and her career is already off to a tremendous start. A 2014 graduate with her bachelor's degree in biological sciences in under three years and a recipient of the Chancellor's Award of Distinction, Christina recently began an internship at the White House.
"The White House Internship Program provides me with a unique opportunity to gain valuable professional experience and build leadership skills," shared Christina. "I always felt a connection to the Obama Administration because President Obama was the first president I had the privilege to vote for, so when I found out about the White House Internship Program, I was immediately interested in the chance to serve the public." Christina is serving as an intern for the Domestic Policy Council and shares that its helped her gain a comprehensive understanding of the importance of policy and the elements that go into shaping different areas of policy. After the internship, she hopes to further fuel her interest in health as well as policy.
"Since I could remember I have always wanted to do good, and the only way I knew how to do that was by becoming a medical physician," said Christina. "Since starting my internship, I discovered that there are actually more ways to help the world." Christina added that the program has further ignited her passion in health and policy, by seeing how conversation gets turned into action. "I would have never thought that a girl who has never lived outside of Irvine, CA would move to Washington, D.C. and intern at the White House."
During her time at UC Irvine, Christina served as Executive Undergraduate President for the Medical Initiative Against Homelessness club on campus. Through the collaboration with UC Irvine undergraduates, medical students and the Illumination Foundation (a non-profit organization with the goal to break the cycle of homelessness), the initiative targeted newly discharged patients who were identified as homeless in an Orange County hospital and provided free health and educational services. She also worked for the Clinton Foundation as a UCI campus representative for the Clinton Global Initiative University, which brings together young leaders to take on global challenges many people face worldwide, and served as president and founder of the United Nations Advocate club on campus. Christina said that these experiences during her undergraduate education have been paramount in her motivation to hopefully revolutionize and advance the health care field either as a physician or through policy.
Christina's advice for current students and recent graduates like herself is to "Seize every opportunity that may come your way, and make the most of it." She is certainly following her own advice!