Biological Sciences School Professor named one of six 2015-16 UCI Hellman Fellows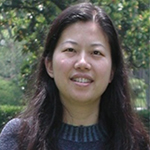 Six UCI assistant professors have been chosen from a highly competitive cohort to receive 2015-16 Hellman Fellowships, which support research by junior faculty members who show great promise. Their projects focus on self-driving cars, economic instability at the U.S.-Mexico border and the production of carbon-neutral fuels, among other topics.
Professor Yilin Hu, Molecular Biology and Biochemistry, is one of the six fellows.. Engineering proteins for the production of biofuel is the focus of Hu's research, which explores the nitrogenase mechanism and nitrogen fixation and assembly, with an emphasis on the genetic manipulation of nitrogenase enzymes. She's expanding her work into investigations that could establish an evolutionary link among nitrogen fixation, the formation of methane by microbes, and photosynthesis from a biochemical perspective. The aim is to develop industrial applications of these processes based on the intrinsic homology among these enzyme systems. Hu became a UCI faculty member in 2013.
Read the full press release here.
Visit the Hellman Fellows Fund page here.