Biological Sciences School Faculty Offers Model to Predict how Microbiomes may Respond to Change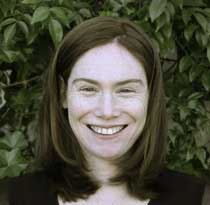 In a review of the recent literature on the microbiome and it's role in human health, Dr. Jennifer Martiny, a professor of Ecology and Evolutionary Biology, presents a far-reaching assessment of microbiomes that could affect efforts to improve human health and the health of all the Earth's ecosystems.
Microbiomes consist of collections of microscopic organisms, including viruses and bacteria, which inhabit environments in the human digestive tract, and the ocean. The review delves into microbial evolutionary processes and explores previous research showing that microbial traits can predict how they have evolved on earth.
Professor Martiny's analysis of these earlier studies, along with her own work suggest that patterns of microbiome diversity among samples can reveal more information than previously thought when paired with the evolutionary history of microbial traits.
"In addition to new technologies, we are in desperate need of new conceptual models to help us understand these complex communities," says professor Martiny. "We already have a lot of data about microbiomes that could be put to further use."
The review appeared in the November 5 issue of Science.