Biological Sciences School Professor and intercampus collaborators win $4.5 Million in new NIH funding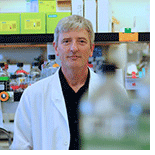 Professor Christopher C. Hughes, Chair of Molecular Biology and Biochemistry, and colleagues at University of California, San Francisco (UCSF) and University of California San Diego (UCSD), were recently awarded two collaborative grants from the National Institutes of Health (NIH).
The first NIH grant is a total award of $3.9 million over five years to develop a pancreas biomimetic that will model pancreas function. Combining stem cell-derived pancreatic beta cells and a vascularized micro-organ system developed by Professor Hughes and colleagues, the team will create a pancreas-on-a-chip that can be used for exploring the molecular mechanisms of diabetes as well as for developing new drugs. Professor Hughes's group is also working on creating other micro-organs, including bone marrow, heart, brain and tumor that can be used for advanced high-throughput drug screening applications. Professor Hughes will work with Professors Maike Sander and Karen Christman at UCSD and Professor Steve George at Washington University in St. Louis on this grant.
The second NIH grant is $0.5 million for a one-year pilot project with Professor Rosemary Akhurst at UCSF to look at the role of circulating endothelial progenitor cells (which contribute to the lining of blood vessels) in the development of the rare vascular disorder Hereditary Hemorrhagic Telangiectasia (HHT). Professors Hughes and Akhurst will combine their expertise in vascular biology and the genetics of HHT to test the hypothesis that circulating bone marrow-derived cells play a key role in driving the lesions that define this disease. Professor Hughes has a long-standing interest in HHT and works extensively with cureHHT, the world's only charitable organization that supports HHT patients and actively seeks a cure through direct support of HHT research. He is currently serving as Chair of cureHHT's Global Research and Medical Advisory Board.
If you'd like to learn more about how you can support the faculty and research at the Biological Sciences School, please contact Andrew DiNuzzo at 949.824.2734 or adinuzzo@uci.edu.