BioSci Teaching Support Team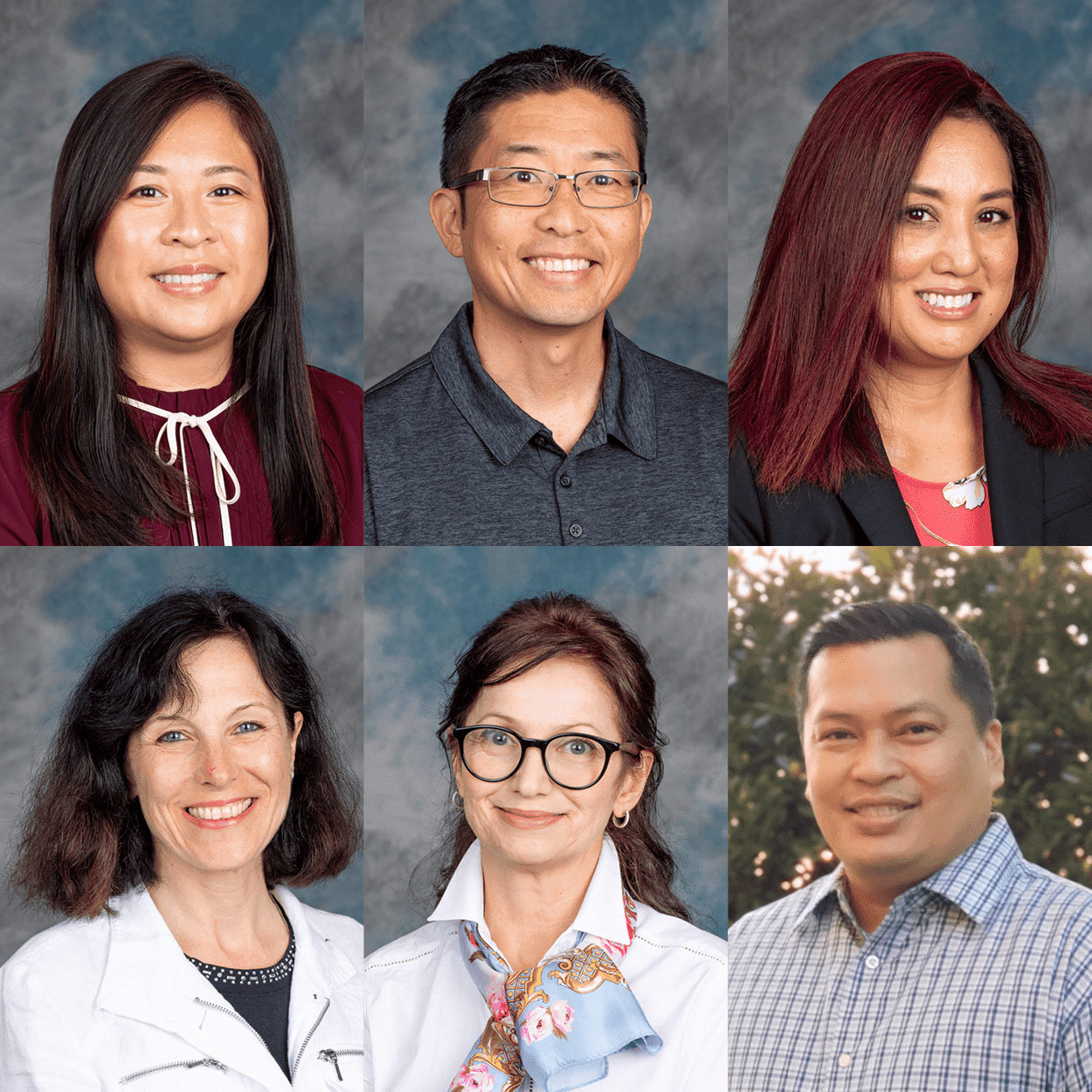 The COVID-19 pandemic forced UCI BioSci to make some sweeping changes in how we support our research laboratories during quarantine and especially as research labs reopened in June last year. The BioSci Teaching Support Staff, normally tasked with providing support to our teaching labs, pivoted instantaneously. "They immediately stepped up and agreed to staff the loading dock at McGaugh Hall to make sure critical deliveries for our labs could be accepted and distributed without interruption," said BioSci Assistant Dean Benedicte Shipley. Professor Michael Leon, who oversees the team, added, "Our outstanding group of lab techs have been able to shift to what was needed most by the school and campus over the past year, ranging from making sure that packages get to the labs, to testing people for the virus." We are pleased to feature this stellar team in our first newsletter of 2021.
A 2002 UCI graduate, Mi Lay received her bachelor of science degree in Biological Sciences. "I started working with the teaching support group as a staff research associate just two weeks after graduation," she says. Through the years, she has moved up to staff research associate IV, her current position. Outside of work, Mi enjoys playing pickleball, which she discovered at the start of the pandemic as a way to get some exercise. "I'm now obsessed with it and play four to five times a week," she says with a smile. She also loves animals and has five lucky pets: three dogs, one cat and a tortoise.
Owen Shimizu came to UCI as a student in 1990. "I began working in BioSci as a student lab assistant," he says. "I continued with brief stints as a teaching assistant and then joined the teaching support staff." As a student, Owen was a Campus Representative who gave tours of the campus. Owen also likes to stay physically active, something that can be a challenge during a pandemic with a quarantine. In his free time, he enjoys skiing in the winter months and obstacle course racing any time of year. He also loves a good game night to relax with his friends and family members.
Doty Laurel remembers visiting Irvine during her college years when a friend was attending UCI. "I just fell in love with the campus," she says, adding, "So when my family had the opportunity to move from Las Vegas to Southern California, I decided to look at job opportunities at UCI." She joined UCI as a staff research associate in the fall of 2012. A busy mom of four children, Doty's life outside of work revolves around them with activities like surfing, skating, boating and dirt bike riding. A microbiology major in college, she says, "I love being in a university setting where I'm constantly surrounded by a community that shares the same enthusiasm for the sciences."
The story of how Yelena Kondratyeva came to UCI is a good one. "My family and I immigrated to the US from Russia. While looking for work, I also looked for a rock-climbing gym for my son," she says. "UCI had a gym but it was only for UCI students, employees and their families, so I checked job openings and found a position with the teaching support team." Thanks to her son, she found herself in the right place, working with great people for almost 16 years. She also enjoys hiking, skiing, and taking long walks on the beach. "My favorite books and movies are science fiction," she says. "Biology 3D-animation is like a sci fi movie to me."
Bella Almourzaeva started working for UCI as a Staff Research Associate in 2006. She currently supports Professor Charles Glabe's lab and also enjoys working in Professor Katrine Whiteson's lab whenever they need her help. Aside from the UCI work she loves, Bella enjoys going on hikes, traveling to new places, spending time with her family and friends and taking care of her garden. Bella says, "I'd really like my colleagues to know how much I enjoy working with them and that I am very grateful for being a part of this wonderful UCI community and our beautiful campus."
This month, Aris Lindo is celebrating his fifth anniversary working for UCI BioSci. A part-time lab assistant at Steinhaus Hall, Aris is currently working at the McGaugh Hall loading dock. "I would love to be here full time," he says. "A silver lining to the pandemic is the opportunity working the loading dock because I've met so many different BioSci faculty and staff and learned more about the research being conducted here." Outside of work, Aris likes to spend time with his wife and kids, and cooking all sorts of food. In closing, he says, "I also enjoy playing basketball and I am a big Lakers fan."