Bridging Art and Science with the Illuminations Initiative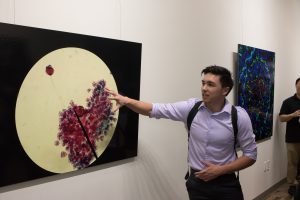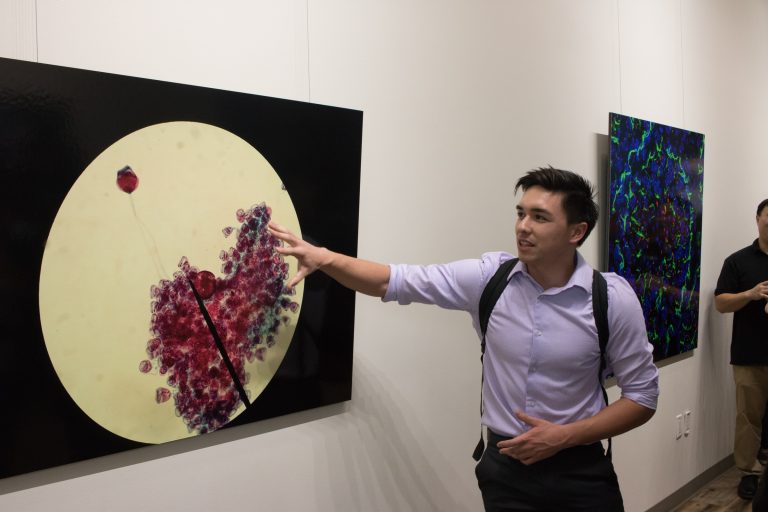 The School of Biological Sciences co-hosted an evening of art and science at the Crystal Cove Auditorium. The Illuminations Arts & Culture Initiative was put forth by Chancellor Howard Gillman to expose UCI students to the artistic experience and help stimulate their inner creativity. The event commenced with "The Art of Science" photo exhibit, followed by a reception. The theme of the exhibit was "A Look Through the Microscope," featuring photographs of biological specimens from School of Biological Sciences faculty research projects. Following the exhibit and reception was a free screening of the award-winning film, "Alive Inside," a documentary exploring the power of music in the lives of Alzheimer's and other patients suffering neurodegenerative disorders.
The evening's exhibit was a presentation of thought-provoking images captured by Biological Sciences School undergraduates, graduate students, and postdocs. The images were artistic and colorful depictions of the connection between art and science. Contributors to the exhibit were; Jessica Greenwood, Lauren Kanzaki, Christine Schneider, Kenneth Schmitt, Xiaojie Wang, and Charles Yi.
The documentary "Alive Inside" followed the story of social worker Dan Cohen, the founder of the nonprofit organization Music & Memory, and his struggle against a dysfunctional nursing home system, to provide music to the home's patients suffering from dementia and other neurodegenerative disorders. The film concluded with an interactive discussion lead by Dr. Kerry Burnight, Professor of Geriatric Medicine.