Community Spotlight: Ami Bera '87 B.S., '91 M.D.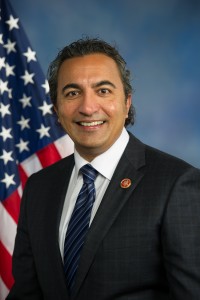 Congressman Ami Bera represents California's 7th Congressional District in the U.S. House of Representatives. A first-generation American born and raised in California, Bera is guided by a desire to serve his community. It's that commitment to service that led him to become a physician and later run for Congress.
He attended California's public schools from grammar school through medical school, earning both his B.S. from the Biological Sciences School and M.D. from the School of Medicine.
"At U.C. Irvine I was able to get a well-rounded education, build solid friendships, and participate in extracurricular activities like student government and the UCDC program that gave me a solid foundation in leadership," Bera said. "But most importantly, I met my wife, and fellow-anteater Janine!"
After graduating from medical school in 1991, he did his residency in internal medicine at California Pacific Medical Center, eventually becoming chief resident. He went on to practice medicine in the Sacramento area, serving in various leadership roles for MedClinic Medical Group. Chief among his contributions was improving the clinical efficiency of the practice.  He then served as medical director of care management for Mercy Healthcare, where he developed and implemented a comprehensive care management strategy for the seven-hospital system.
Congressman Bera went on to put his medical experience to work for his community, serving Sacramento County as chief medical officer. In that role, he fought to reduce the cost of health care, create jobs, and deliver care to tens of thousands of Sacramento residents. He then moved into education, working as clinical professor of medicine and associate dean for admissions and outreach at University of California, Davis, where he taught the next generation of doctors. He also helped the University's student-run clinics find innovative ways to engage with the community and deliver care to those who needed it most.
In 2013, Congressman Bera challenged and defeated incumbent Dan Lungren for the 7th district seat in Sacramento County. He is the only Indian American currently serving in Congress. He lives in Elk Grove, California with his wife Janine, who is also a medical doctor, and their daughter, Sydra.