Congratulations to our Graduate Student Awards Winners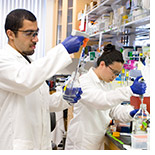 A number of Biological Sciences School graduate students recently received research awards. Rachel Cinco, graduate student in Developmental and Cell Biology, recently received the F31 Ruth Kirschstein National Research Service Award in Diversity. Additionally, Neurobiology and Behavior graduate students Andre White (in Professor Marcelo A. Wood's lab) and Minhan Dinh (in Professor Karina S. Cramer's lab) have been selected the 2015-2016 Pedagogical Fellows Program sponsored through UCI Teaching, Learning and Technology Center. Fellows are competitively selected graduate students with teaching experience at UCI who serves as mentor TAs to other TAs.
If you'd like to learn more about you can support undergraduate and graduate students at the Biological Sciences School, please contact Andrew DiNuzzo at 949.824.2734 or adinuzzo@uci.edu.