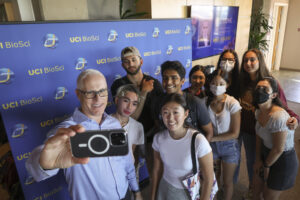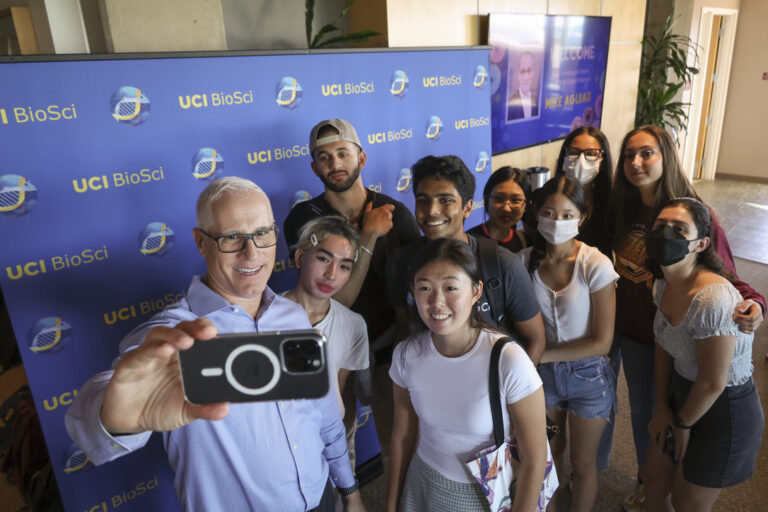 The UCI School of Biological Sciences hosts Donuts with the Dean events each quarter at which undergraduate students can meet and mingle with Dean Frank LaFerla, BioSci faculty, classmates and special guest speakers, while enjoying complimentary fruit, coffee and donuts.
These networking events provide an informal and relaxed setting where students can connect with their professors and learn more about the school. They can also learn about the research being conducted at UCI and the latest developments in the field.
In addition to networking with faculty, students also have the chance to hear from guest speakers who are experts in their fields and who share their experiences, insights and career advice. Past speakers have included alumni who have gone on to successful careers in academia, industry and government.
"As a freshman attending my first quarter at UCI, I was excited to attend UCI BioSci's Donuts with the Dean event. The atmosphere was welcoming and relaxed, making it easy for me to ask questions and get to know other students in BioSci," said Ritwik Kumar, a first year BioSci student who plans to major in Microbiology and Immunology. "I was particularly impressed by the guest speaker, who provided a first-hand perspective on the various fields we as BioSci undergrads may pursue post-graduation. I highly recommend other BioSci undergrads attend these events."
Donuts with the Dean is a valuable opportunity for undergraduate students to connect with experts in the field of biology, learn about career opportunities, and get to know their dean and professors. These events can help students gain a better understanding of the many paths available to them in the field of biology and can help students make connections and build relationships within BioSci that can support their future careers.
RSVP to the next Donuts with the Dean event on Wednesday, Jan. 18, and stay up to date on the latest BioSci events by subscribing to the BioSci events calendar.