Excellence in Teaching Awards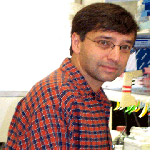 Faculty Receive Awards for Excellence in Undergraduate Education
Congratulations to our Biological Sciences School faculty who have been chosen to receive awards for this year's Celebration of Teaching Award Recipients. Professor Rahul Warrior, Developmental and Cell Biology, was awarded School Honoree and several Pedagogical Fellows were named from the School as well: LuAnna Dobson, Kate Gallagher, and Lauren Javier. Recipients for the 2015 Celebration of Teaching Award recipients were competitively selected by the Academic Senate Council on Student Experience based on nominations from faculty and students.
School Honoree:
Rahul Warrior, Developmental & Cell Biology
Rahul Warrior is an Associate Professor in the Department of Developmental and Cell Biology. Warrior's lab research includes proteoglycans in development, transcriptional response to BMPs, and nuclear migration.
More information on lab research and recent publications can be found here: https://devcell.bio.uci.edu/faculty/rahul-warrior/
Pedagogical Fellow – Our fellows are mentor teaching assistant (TAs) who develop and implement the campus-wide TA Professional Development Program and who offer training workshops throughout the year for their peers
LuAnna Dobson, Ecology & Evolutionary Biology
Kate Gallagher, Ecology & Evolutionary Biology
Lauren Javier, Neurobiology & Behavior
These awards will be presented at the 22nd Annual Celebration of Teaching, which will be held on May 7, 2015.