Five BioSci Faculty Selected as Inaugural FATE Fellows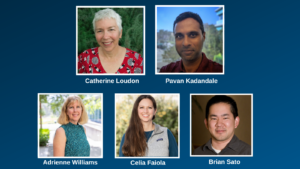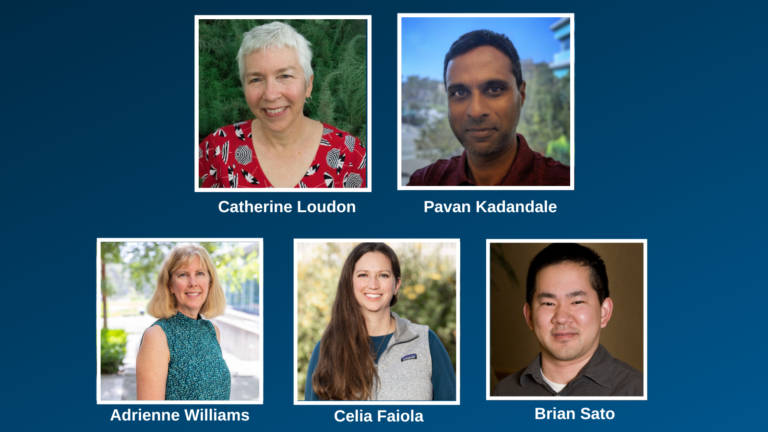 Five faculty members from BioSci were recently selected to join the inaugural class of the UCI Faculty Academy for Teaching Excellence (FATE) fellows for the 2022-23 academic year.
Associate Professor Celia Faiola and Teaching Professor and Vice Chair Catherine Loudon from the Department of Ecology and Evolutionary Biology, Associate Teaching Professor Pavan Kadandale and Teaching Professor Brian Sato from the Department of Molecular Biology and Biochemistry, and Assistant Teaching Professor Adrienne Williams from the Department of Developmental and Cell Biology have been recognized for their contributions to creating learning environments that foster student growth, continued development of their pedagogy and recognition from their peers as model educators.
FATE is a program designed to highlight the contributions of faculty members who have demonstrated a commitment to student success, and whose fellows pledge to continue growing in their roles as educators and mentors. Through FATE, the Office of the Vice Provost of Teaching and Learning aims to create a community of individuals with a shared desire to promote student success.
The five newly named FATE Fellows have each made a significant impact in their respective departments and the UCI community. Their commitment to excellence in teaching and their dedication to students are an inspiration to all.
The BioSci community congratulates the five FATE Fellows on this well-deserved recognition. We are grateful for their contributions and look forward to their continued success and growth as educators. We are confident that their leadership and expertise will continue to shape the future of higher education and benefit students for years to come.