Grad Student Spotlight: Rachel Perlas Cinco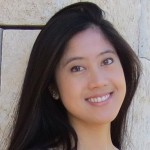 Rachel Perlas Cinco is a graduate student in Professor Ulrike Luderer's laboratory in the Department of Developmental and Cell Biology who recently was awarded an F31 Ruth Kirschstein National Research Service Award to Promote Diversity in Health-Related Research. Granted by the National Institute on Aging, one of the National Institutes of Health, Rachel describes the aims of the award to identify the contribution of glutathione to the proper maintenance of the ovarian primordial follicle pool and clarify effects of oxidative stress on the ovarian primordial follicle reserve and female fertility. This research seeks to contribute insights to developing future therapies and preventative strategies.
With research interests in the impact of antioxidant deficiency in aging and female fertility, as well as stem cell research applied towards restoration of fertility and age related diseases, Rachel's long-term career goal is to become an independent scientist, directing her own research at an academic or industry driven institution.
An active member of her community, Rachel holds memberships on numerous professional and student organizations, including serving as Executive Board Secretary of the UCI Orange County Graduate Women in Science, an organization that serves to provide a support platform to empower young women to be successful active members of STEM (Science Technology Engineering and Math) scientific communities.
If you'd like to learn more about you can support undergraduate and graduate students at the Biological Sciences School, please contact Andrew DiNuzzo at 949.824.2734 or adinuzzo@uci.edu.