Honoring Our Future Innovators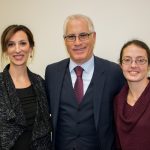 Science, technology, engineering and mathematics (STEM) education has been critical to our nation's role as a global leader of innovation.  The ARCS Foundation seeks to further advance science and technology by providing assistance to exceptional students studying to complete degrees in STEM fields.  School of Biological Sciences graduate students Allison Najafi and Zachariah Reagh (Neurobiology and Behavior), Alyssa Braciszewski (Ecology and Evolutionary Biology), and Christine Schneider (Molecular Biology and Biochemistry) were honored at this year's ARCS Scholars Luncheon for their innovative research projects.
The ARCS Foundation has partnered with UCI because of their common interest in advancing STEM education, and UCI's exceptional faculty and history of innovation and discovery.  The UCI-ARCS Scholar Award provides additional financial support for exceptional graduate students, and is given on an annual basis. Along with the Biological Sciences School students, several students from the Bren School of Information and Computer Sciences, the Samueli School of Engineering, the School of Medicine, and the School of Physical Sciences, were selected for awards and recognized at this year's luncheon.