New Therapeutic Target for Brain Disease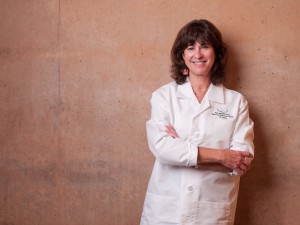 Professor Leslie M. Thompson, Neurobiology and Behavior and Psychiatry and Human Behavior, has been studying genetic disorders of the brain for over 2 decades.  Recent work from Professor Thompson's Lab, led by doctoral candidate Joseph Ochaba, has identified a new therapeutic target that, when reduced in HD model mice, decreases inflammation of the brain and the accumulation of toxic proteins.
Professor Thompson's particular research specialty is in Huntington's disease (HD).  HD is caused by an expansion of polyglutamines in the Huntingtin (HTT) protein.  The expanded or mutant form of the HTT protein leads to accumulation of the protein within neurons.  In addition to polyglutamine expansion, other mechanisms may also contribute to the HTT accumulation, particularly certain post-translational modifications.  Professor Thompson's lab previously identified that the protein PIAS1 was involved in HTT post-translational modification and accumulation.  In the current study, Professor Thompson and colleagues targeted the PIAS1 protein in a mouse model of HD to investigate whether reductions in the protein would benefit the HD model mice.  They found that PIAS1 reduction led to lower inflammation, increased synaptic integrity, and decreased accumulation of mutant HTT.  The results from Professor Thompson's study may one day be translated into a clinical therapeutic for HD.
Other researchers that contributed to this work were: Alex Mas Monteys, Jacqueline G. O'Rourke, Jack C. Reidling, Joan S. Steffan, Beverly L. Davidson.  Results from the study can be found in the online edition of Neuron.