Phone Call Dials Up Health Innovation, Friendship for BioSci Alums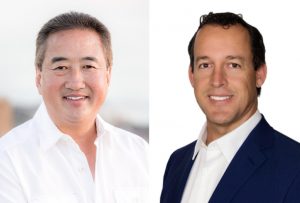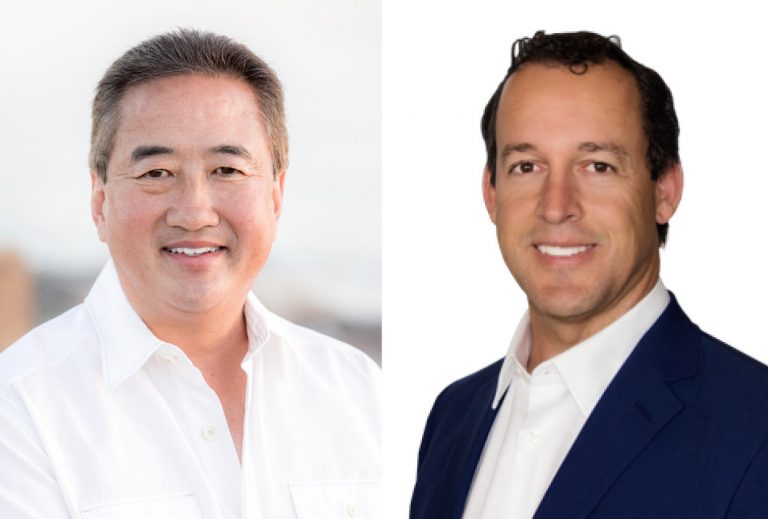 When Idaho physician David Shelley, M.D., phoned California businessman Ed Chang, the call brought together two people with more in common than either expected. Besides sharing a passion for health care innovation, the pair discovered they both graduated from UCI with biological sciences degrees. The conversation sparked a professional bond and a growing friendship.
Dr. Shelley, Class of 1990, is director of Artery & Vein Specialists of Idaho, located in Pocatello and Blackfoot.  Among his patients are people preparing for hemodialysis, the most common treatment for kidney failure. In this kind of dialysis, blood is cleaned by a machine, leaving and returning to the patient through tubes in the arm. Because the needles involved are too big for an arm vein to tolerate, physicians such as Dr. Shelley make the vein more robust by connecting it with an artery, creating what is known as a fistula. Until now, this procedure has been done surgically under general anesthesia, necessitating a recuperation period and causing scars.
Eighteen months ago, Dr. Shelley heard about a groundbreaking product called the Ellipsys Vascular Access System, developed by Orange County-based Avenu Medical. The device enables physicians to make the fistula through a minimally-invasive method under regional or local anesthesia. It doesn't leave a scar and recovery time is minimal. Initial data shows fistulas created via the Ellipsys System are lasting longer than those made surgically, reducing the risk patients will have to undergo multiple procedures.
"I knew it would be an enormous step forward," Dr. Shelley said. "These people already give up a lot of their lives to treatment, usually having hemodialysis three days a week for four hours at a time. To make this fistula procedure a minimally-invasive process that doesn't leave a scar is a huge advance for their quality of life."
When Dr. Shelley called Avenu Medical's Orange County headquarters to find out more, co-founder Chang picked up the phone.
"David asked me where our company was located and when I told him, he responded that he was very familiar with our area because he got his undergraduate degree at UCI," said Chang, Class of 1984, who is also Avenu Medical's vice president of marketing. "We had both gone to BioSci, had the same classes and even the same professors. I think our BioSci education helped shape our shared interest in innovating and improving the experience of patients."
The two have kept in touch ever since. Dr. Shelley was among the first physicians to use the Ellipsys System after it went on the U.S. market this past January, successfully creating fistulas for two patients in February. "It went very well," said Dr. Shelley. "The patients were very happy and already more people have signed up for the procedure." He is the only physician offering it in the region comprised of Idaho, Montana, Utah, Wyoming and North and South Dakota.
While Dr. Shelley and Chang have frequently called and texted, their schedules have precluded getting together in person. However, they hope to do so soon.
"Our experience shows that no matter when you graduated from BioSci, once an Anteater, always an Anteater," Chang said.