Professor Leslie M. Thompson Awarded Title of Donald Bren Professor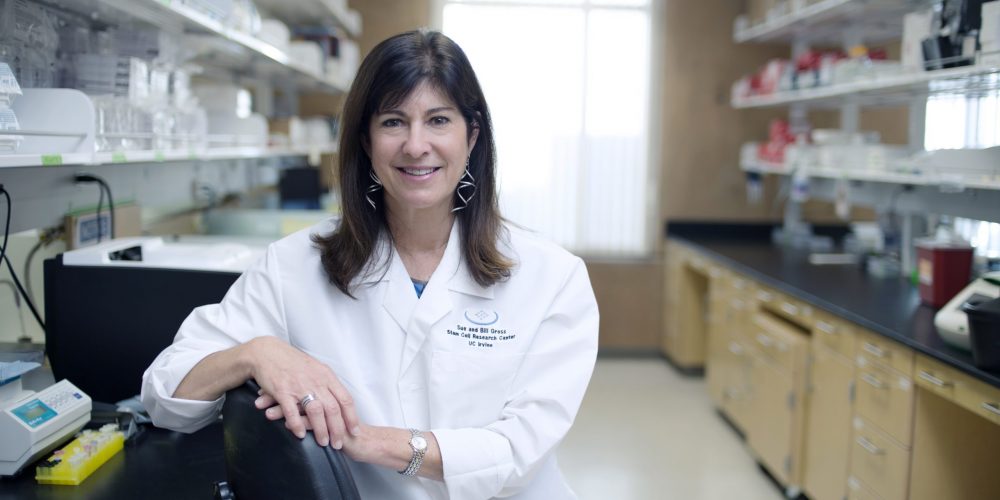 Professor Leslie M. Thompson, Neurobiology & Behavior and Psychiatry & Human Behavior, has been awarded the title of Donald Bren Professor. The Bren Fellows Program was established to enhance faculty scholarship, research, and creative achievement at UCI. This appointment follows a series of previous honors from the university that included selections as a Chancellor's Fellow in 2014 and Chancellor's Professor in 2018. This is a wonderful accomplishment for Professor Thompson, as the title of Donald Bren Professor has been designated for faculty who have demonstrated exceptional academic merit.
Professor Thompson has achieved international acclaim for her accomplishments as a Huntington's Disease (HD) researcher. She is renowned for her studies into the pathogenesis of HD and has been at the forefront of utilizing stem cells to model HD. Professor Thompson is the founding co-editor of the Journal of Huntington's Disease and the principal investigator of NeuroLINCS, one of six national centers creating a database of human cellular responses and imaging to speed efforts to develop new therapies for motor neuron diseases including Amyotrophic Lateral Sclerosis (ALS). She is currently part of a team of investigators building the Precision Health through Artificial Intelligence Initiative, a cross-campus multidisciplinary effort.
"I feel very grateful and honored by this appointment as a Donald Bren Professor," said Professor Thompson upon learning of her award. "It is something I could never have imagined and is a testament to the support I have received as a faculty member at UCI and the incredible colleagues I have had the privilege to work with."