Regenerating a New Limb with the HEAL Project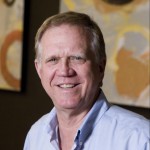 The University of Connecticut will be launching a revolutionary scientific project aimed at helping individuals who have lost limbs or experienced severe nerve damage by regenerating new nerves cells or entire extremities. The project, known as the Hartford Engineering A Limb Project (HEAL), will be headed by University of Connecticut professor Cato Laurencin, a medical doctor with a Ph.D. in biochemical engineering/biotechnology. In order to help reach the project's goals of regenerating a new limb within 15 years, professor Laurencin has reached out to a cohort of preeminent regenerative scientists, including UCI professor David Gardiner.
Dr. Gardiner is a professor in the department of Developmental and Cell Biology, and Associate Dean for Research and Academic Affairs for the Biological Sciences School. Dr. Gardiner brings his expertise in salamander biology to the project, as salamanders are the only vertebrate species that can regenerate lost body parts as adults. The field of regenerative engineering is still in its infancy, and through the HEAL project, Dr. Gardiner and colleagues are hoping to utilize this new approach to bring life-changing breakthroughs to patients.