Seven Minority Science Programs Students Awarded at ABRCMS 2022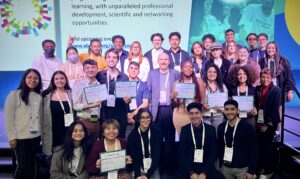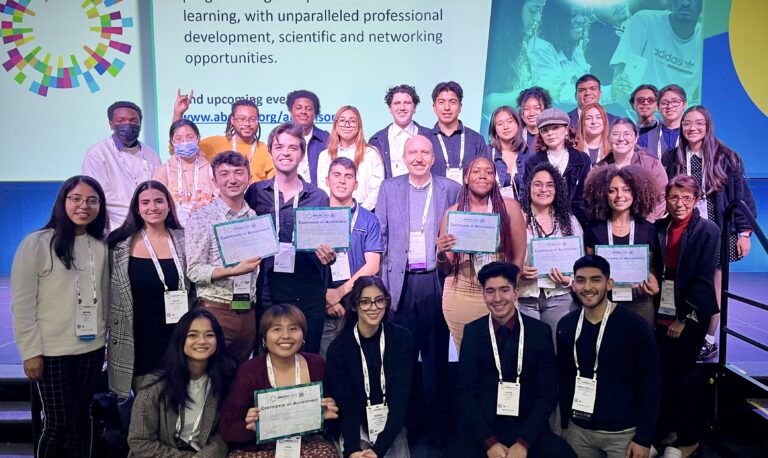 In November, members of the UC Irvine community convened in Anaheim — and virtually — to attend the Annual Biomedical Research Conference for Minoritized Scientists (ABRCMS), one of the largest, professional conferences for minoritized students in biomedical sciences, which attracts over 3,400 students from over 350 U.S. colleges and universities.
ABRCMS — sponsored by the NIH and organized by the American Society of Microbiology — was first held in 2001 and was established to encourage minority, first-generation, veteran, and disabled students to pursue higher education in the fields of science, technology, engineering and math.
In addition to poster and oral presentations, exhibit booths and relevant speaking events and programming, the conference provides valuable networking opportunities as well as scientific and professional development sessions to support underrepresented scientists at different points in their professional and educational careers.
In attendance at ABRCMS were several of UC Irvine's Minority Science Programs (MSP) students, who were awarded for their research presentations.
Luis Mota-Bravo, PhD, who is director of the program, is deeply invested in the success of MSP students and the mission of ABRCMS.
"Student presentations of scientific findings at national conferences is a key intervention of the UCI Minority Science Programs to prepare undergraduates to enter and excel in Ph.D. programs and become the next generation of biomedical researchers," said Mota-Bravo. "The fact that MSP trainees consistently receive numerous awards at national conferences, year after year, demonstrates the exceptional training that students are receiving."
Read on for the seven MSP students who received the awards (names in bold), the principal investigators and advisors, research titles, academic affiliation of the principal investigators and advisors and category of each award:
Kevin Camey, Leslie Vazquez-Rangel, Dr. Michael Phelan, Dr. Jesse Pascual, Dr. Alessandra Martini, Dr. Elizabeth Head
Aberrant Changes in Astrocytes: Significantly Lower Astrocyte Cell Counts Coupled with an Abundance of S100b in Down Syndrome Human Frontal Cortex
School of Biological Sciences, University of California–Irvine
Poster Category: Neuroscience
Marian F. Khalil, Dr. Andrei Tatarenkov, Dr. Marlene de la Cruz, Dr. Luis Mota-Bravo
First Report of a Klebsiella variicola Containing a β-Lactam DHA-1 Resistant Gene in the USA
School of Biological Sciences, University of California–Irvine
Poster Category: Physiology & Pharmacology
Dana L. Mejia, Dr. Andrey Tatarenkov, Dr. Marlene de la Cruz, Dr. Luis Mota-Bravo
Environmental Klebsiella pneumoniae Carries a Novel Composite Transposon Encompassing Multidrug Resistance Region
School of Biological Sciences, University of California–Irvine
Poster Category: Social & Behavioral Sciences & Public Health
Jessica M. Mikhail, Dr. Iván Muñoz-Gutiérrez, Dr. Marlene de la Cruz, Dr. Luis Mota-Bravo
Escherichia coli Isolated from a Migratory Bird has an Antibiotic Resistant Proteus mirabilis-like Plasmid Integrated in its Chromosome
School of Biological Sciences, University of California–Irvine
Poster Category: Microbiology
Cierra Ord, Dr. Andrei Tatarenkov, Dr. Marlene de la Cruz, Dr. Luis Mota-Bravo
Environmental Escherichia coli Carries Atypical Class 1 Integron Encoding dfrA5 Gene in Multidrug Resistant Region
School of Biological Sciences, University of California–Irvine
Oral Category: Microbiology
Riley Quijano, Dr. Nicholas Chim, Dr. John Chaput
Cloning, Expression, and Purification of a New Generation of TNA Polymerase
School of Pharmaceutical Sciences, University of California–Irvine
Poster Category: Biochemistry and Molecular Biology
Joshua M. Valenzuela, Aubhishek Zaman, Dr. Trever Bivona
Characterization and perturbation of PDHK1 as a target to treat PTEN-deficient cancers
School of Medicine, University of California, San Francisco
Poster Category: Physiology & Pharmacology