Spring Break in the Desert increases outreach for Salton Sea and Anza-Borrego Desert regions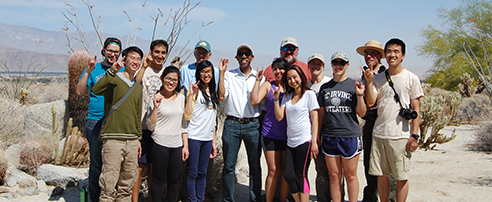 During the week of spring break, March 24-28, ten UC-Irvine undergraduate students participated in a weeklong service-learning program in the Anza-Borrego Desert and Salton Sea Region, led by UCI's Center for Environmental Biology (CEB) and UCI Salton Sea Initiative (SSI). Students represented seven different campus majors, including earth system science, chemistry, engineering, social ecology, and public health and came together because of their shared interest in sustainability. This inaugural program partnered with California State Parks and the Borrego Springs School District for 2014 to present an environmental education program focused on the biology and ecology of the Salton Sea Basin.
Program participants spent the first two days learning about desert ecology and sustainability through interactive talks, hikes with State Park rangers, tours of the Visitor's Center and Paleontology Lab at Anza-Borrego Desert State Park, and a driving tour of the Salton Sea. The remainder of the program was spent doing education and outreach activities in Borrego Springs Schools and volunteering at the State Park. Specific activities included giving presentations on the Salton Sea, leading round-table discussions on sustainability, advising high school students on science fair projects, and doing maintenance and grounds-keeping activities at the State Park.
Coincidentally, Chancellor Drake visited the State Park during one of the volunteer activities, and took time to visit with the students and thank them for their service efforts on behalf of the university.
Some of the participants were surprised by how much the trip impacted them and how much they learned through their interactions with students. Esperanza Perez, a 3rd-year Earth System Science major said, "It was an eye opener. It was one thing to have been informed about the problems at the Salton Sea and how we can try to help but being there and seeing the sea first hand is a different experience. Personally, it inspired me to get more involved and gave me the motivation to reach out to make a positive impact on our environment."
Third-year Social Ecology and Education major, Nora Finch, added, "I knew working with the students in Borrego would be interesting and rewarding. What surprised me, however, was how much we learned from them in return. I'll never forget how awed I was at the students' interest in the issues we were discussing and their overall passion for learning."
This inaugural Spring Break in the Desert program was led by Dr. Jessica Pratt, Education and Outreach Coordinator for the Center for Environmental Biology, and Dr. Tim Bradley, Professor of Ecology & Evolutionary Biology and Director of the campus-wide Salton Sea Initiative. Because the Steele-Burnand Anza-Borrego Desert Research Center was under construction during the trip, the Anza Borrego Methodist Church kindly provided accommodations for students. In future years, the newly renovated Desert Research Center will provide the perfect launching pad for this and other UCI service-learning programs.
The UCI Salton Sea Initiative is a campus wide initiative seeking to address long-term sustainability issues in the Salton Sea region. UCI's Center for Environmental Biology seeks to link academic research with ecosystem management and stewardship of natural resources, and to educate the next generation of environmental biologists and stewards.
Those pictured include (left to right, back row): Chris Halsch, Nick Mamich, State Park's volunteer Paul Larson, Desert Research Center Reserve Manager Jim Dice, Jessica Pratt, and State Park Ranger Steve Bier. Front row: Calvin Ng, Annette Tran, Gabrielle Lee, Chancellor Drake, Esperanza Perez, Maribel Cervantes-Ortega, Suzanne Jarmuch, and David Cao.
If you'd like to learn more about you can support undergraduate and graduate students at the Biological Sciences School, please contact Andrew DiNuzzo at 949.824.2734 or adinuzzo@uci.edu.