Staff Spotlight: Andrea Wiley, Department Manager for Development and Cell Biology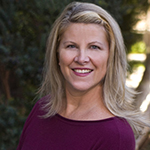 Andrea Wiley has served as department manager for the Department of Developmental and Cell Biology at the Biological Sciences School for seven years. In her role, Andrea manages the operations for the department including research administration, financial management, department graduate program and faculty assistance.
Andrea is a loyal anteater, having held numerous positions in the School of Social Sciences, Medical Center and the Biological Sciences School.
The recent recipient of the Staff Assembly Excellence in Leadership Award as well as the UCI Living Our Values Award, Andrea's leadership has truly shined. "Just knowing my staff felt I was a good leader was reward enough," shared Andrea. " I was so touched and honored to be presented with the award and it warms my heart that I was possibly giving some of the great mentorship I've received through the years, to my own staff."
Andrea shares that the most rewarding part of her job is the feeling that she's contributed, even just a little, to the great things UCI is doing for the community as well as the world. She thoroughly enjoys being around the students as well as the educational and research atmosphere. "It is so exciting to learn about the phenomenal research taking place in the Biological Sciences School and at UCI. All the breakthroughs will ultimately change lives for the better. It's so wonderful to work where you are truly making a difference."