Staff Spotlight: Andrew DiNuzzo Senior Director of Development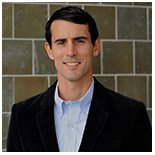 Andrew DiNuzzo has served the Biological Sciences School for four years. In his role as Senior Director of Development, his primary responsibilities include engaging our external constituents – alumni, volunteers, and benefactors– and promoting the research and education mission of the School. Andrew has helped our donors connect with over $8 million in philanthropic funding options to support scholarships, research programs, and student services. This allows the Biological Sciences School to remain competitive among peer institutions and influential in the global scientific community.
Andrew shares that he thoroughly enjoys the opportunity to be exposed to cutting edge research in not only the sciences, but in all areas of human interest. "My goal is to continuously promote and advance research that will ultimately improve the lives of our citizens and society at large," he said. Andrew also added that it's a great reward to meet with Biological Sciences School alumni and friends, learn about their personal histories, and to discover ways in which their passions can be effectively matched with the mission of our enterprise.