Staff Spotlight: Robyn Stiffler, Director of Building Management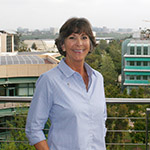 Robyn Stiffler is the Director of Building Management at the Biological Sciences School. She has worked for the Biological Sciences School the past 12 years, eight of which are in her current role. Robyn is responsible for all aspects of building operations management, which include approximately 1 million square feet, maintaining space inventory and implementing construction and renovations projects.
Robyn has over 30 years experience in the Interior Design and Construction industry. She impressively has both a California State Contractors- General Building License and a California State Contractors-Painting/Decorating License. Robyn also has a bachelor's degree in Business Management.
"What I enjoy most about working here is the beauty of the campus, the opportunity to work with a wide variety of professionals and the diversity of my job," said Robyn.
Robyn shared that her most memorable experience was being able to watch and be a part of the enormous growth of the School of Biological Sciences.
"The most rewarding part of my job is seeing an idea transform from a design to a completed project and have the end user pleased with the results"