Student Spotlight: Anna U. Tran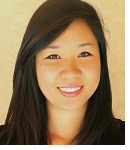 Anna Tran is a fourth-year Biological Sciences major. This past April, Anna was awarded the Donald A. Strauss Scholarship to fund the start-up of a public service project of her choice. The Donald A. Strauss Public Service Scholarship Foundation, established as a memorial to the late Don Strauss of Newport Beach and now designed to award $10,000 scholarships to as many as 15 California college sophomores and juniors annually.
Anna, who hails from Garden Grove, CA, developed the Pay it Forward Program. Anna says, "This project is very personal to me. I entered this world to two loving parents who were nearly half a century older than me. Regardless of the generation gap between myself and my parents, I have always remained very close to them and my family. Now that my parents are entering their golden 70s, it has been even more vital for me to show them how much I appreciate them through spending quality time together. My parents need assistance with their daily lives, but most importantly, they need and want sincere interaction and communication."
Alongside the support Anna is receiving for the Strauss Foundation, she is working with the Joshua Medical Internship Program (JMIP) of Joshua Medical Group, where she also serves as an Outreach Coordinator. Pay it Forward will partner with various senior homes in Orange County to  create a bridge between college students of the JMIP and residents of these senior homes. There will be biweekly activities planned for student-senior pairings that will focus on the social, physical, and mental health of seniors. Through the JMIP, the nine provider clinic will be providing free health talks for seniors on topics such as diabetes, antioxidants, depression, and stroke prevention/awareness. Additionally, Pay it Forward is providing the senior communities with technology and the education to connect the seniors with their own family members via Skype, in addition to learning how to use the Internet for emails, YouTube, simple web searching and more.
Anna says that being able to lead this project  has reassured her of her career path in medicine. Her goal is to become a physician and develop a practice with a holistic approach to caring for patients physically, socially and mentally.