Student Spotlight: Brittany Keiser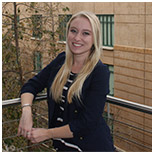 Brittany Keiser is a fourth year undergraduate in the Biological Sciences School double majoring in Genetics and Psychology and Social Behavior. She is currently in the process of starting a genetic counseling organization on campus, working alongside UCLA's genetic counseling organization and the UCI medical center. This organization will be aimed towards educating students from a variety of majors about the field of genetic counseling as well as providing students with resources and experience to be involved in the field. Brittany is hopeful that the group organization will run this Spring Quarter 2015.
"The biggest piece of advice I would give to entering students is to get involved," shared Brittany. "You will hear it throughout your entire time at UCI, but it truly is the best thing you can do. The connections you make here will carry you throughout your college career and into your future."
Brittany's passion for genetic counseling began with a genetics course in high school, which led her to select UCI as her top choice because of our outstanding genetics major. In addition to genetics counseling, Brittany is interested in mitochondrial genetics and disorders as well as conservation genetics.  Her academic research focused on the genetics of populations, the prevalence of genetic disorders, and what medical institutions are doing to account for the variety seen in their patients.
After graduating UCI this June, Brittany be traveling to Washington D.C. in participation of the UCDC program where she will be interning for a particular organization. To further her academic career, she plans on going to graduate school for genetic counseling and is looking at programs in UCI and several other programs in New York and California.
If you'd like to learn more about you can support undergraduate and graduate students at the Biological Sciences School, please contact Andrew DiNuzzo at 949.824.2734 or adinuzzo@uci.edu