Student Spotlight: Ryan Ripperdan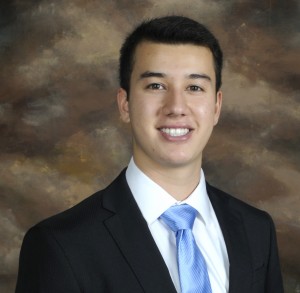 Ryan Ripperdan is an undergraduate majoring in Biological Sciences at the Biological Sciences School.  Ryan is on schedule to graduate in Spring 2016 with plans on applying to medical school shortly thereafter.  Prior to transferring to UCI, Ryan attended Mt. San Antonio Community College for two years.
Throughout his undergraduate career, Ryan has made it a top priority to participate in extracurricular activities to further both his personal and professional development.  He has served as an officer in a pre-health organization and participated in a physician shadowing program to name but two.  Both of these activities were critical in channeling his initial interest in pursuing a career in medicine.  In addition to his earlier activities, Ryan has also served as a volunteer coordinator at a local hospital, president of a local community service organization, mentor to new transfer students here at UCI, and mentor to local community children in need.
"It hasn't been one single event, but the multitude of my experiences while at UCI that have shaped the service-based orientation towards medicine that I hope have as a physician." 
In addition to his extensive community service, Ryan has made it a priority to gain experience in the laboratory setting as well.  One of Ryan's most fond accomplishments since arriving at UCI has been the recognition of his outstanding research efforts.  Not only has working as an undergraduate research assistant in the School of Medicine given him a greater understanding and appreciation for medicine, but his work was integral in him being selected to receive a Rose Hills Foundation Scholarship.
"My desire to go into medicine has been a realization that I have come to as I learned more about the field and about myself. It has paralleled my educational journey, which, while not quite the traditional college experience, has given me a deep appreciation for the opportunities provided to me by UCI. It is my goal to make the most of my time at UCI in order to ultimately be the best physician I can be."