Training Tomorrow's Entrepreneurs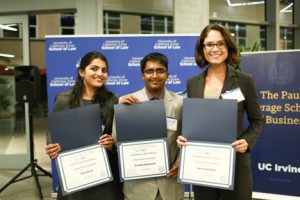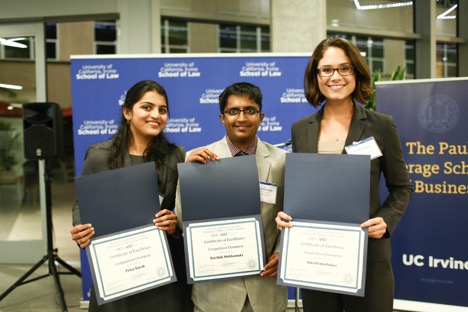 Several students in the Master's Program in Biotechnology Management MS (MSBTM), along with their teammates from the MBA Program and/or School of Law, were awarded for their business design strategies at three recent competitions.  Faisal Chaabani and Garima Naswa were selected from a local competition, to compete in the 2016 Hult Prize Regionals.  The Hult Prize is an international business case competition focused on social entrepreneurship.  Priya Nayak was awarded the Championship prize at the second annual UCI Technology and Entrepreneurship competition held at the Paul Merage School of Business.  Other MSBTM awardees at the Technology and Entrepreneurship competition included Jaidev Jayakumar, Punya Narayan and Paloma Shah.  Lastly, Jakob Jansson won a $5000 prize for his music based mobile app during the 2016 Business Plan Competition at The Cove.
The Master of Science Program in Biotechnology Management (MSBTM) is a multi-disciplinary program designed to provide essential training in both science and management.  The MSBTM is offered jointly by the Biological Sciences School, the Paul Merage School of Business and the Department of Biomedical Engineering.