Two Bio Sci scientists receive Prestigious NIH New Innovator Awards
Prestigious program supports research by early-career faculty; three total from UCI honored
Irvine, Calif., Sept. 30, 2013 — UC Irvine scientists Sunil Gandhi and Ali Mortazavi from the School of Biological Sciences have been named recipients of the prestigious 2013 National Institutes of Health Director's New Innovator Awards. Aaron Esser-Kahn, from the School of Physical Sciences was also named a recipient
The highly selective award program supports projects by early-career researchers that show potential to transform scientific fields and accelerate the translation of research into new ways to improve human health.
Gandhi and Mortazavi will each receive $2.3 million for five years to fund their projects. They are among 41 investigators to receive the award; UC Irvine joins Stanford University, UC San Francisco and UC Berkeley as the only institutions to have three honorees.
"It's rare that an institution is home to more than one New Innovator recipient in one year, and that UC Irvine has three is a testament to the robust environment that encourages our early-career research faculty members," said John Hemminger, vice chancellor of research.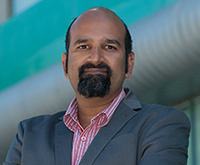 Gandhi is an assistant professor of neurobiology & behavior in the School of Biological Sciences. With the award, he will study whether transplanting a type of nerve cell that dampens activity can rewire neural pathways in the adult brain, a process called neuroplasticity. Findings could help repair damage caused by traumatic brain injury, stroke or neurodegenerative disease. In addition, methods for reactivating neuroplasticity might eventually be used to enhance behavioral therapies for psychiatric disorders such as autism and schizophrenia. Earlier this year, Gandhi was named one of 15 Searle Scholars, an award which recognizes innovative biomedical and chemistry research by young faculty.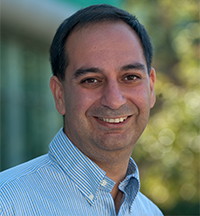 Mortazavi is an assistant professor of developmental & cell biology in the School of Biological Sciences. His project will explore how DNA codes the precise activities of genes involved with development. His lab will create methods to measure how this gene expression is affected by changes in the organization of DNA in embryonic stem cells as they differentiate into neurons and cardiac muscle cells. Mortazavi believes his research will identify fundamental principles of gene regulation as well as the specific DNA elements critical to stem cell differentiation.
Read the full UCI press release here.
The New Innovator Award highlights two important goals of the NIH by stimulating highly original research and supporting promising new investigators. In 2013, under its High Risk-High Reward program, the NIH is awarding 12 Pioneer Awards, 41 New Innovator Awards, 10 Transformative Research Awards and 15 Early Independence Awards. The total funding, which represents contributions from the NIH Common Fund and multiple NIH institutes and centers, is approximately $123 million.
More information on the NIH High Risk-High Reward Research Program is at: http://commonfund.nih.gov/highrisk/.
If you're interested in learning more about how to support our faculty, contact Andrew DiNuzzo.
About the University of California, Irvine: Located in coastal Orange County, near a thriving employment hub in one of the nation's safest cities, UC Irvine was founded in 1965. One of only 62 members of the Association of American Universities, it's ranked first among U.S. universities under 50 years old by the London-based Times Higher Education. The campus has produced three Nobel laureates and is known for its academic achievement, premier research, innovation and anteater mascot. Led by Chancellor Michael Drake since 2005, UC Irvine has more than 28,000 students and offers 192 degree programs. It's Orange County's second-largest employer, contributing $4.3 billion annually to the local economy.
About the National Institutes of Health (NIH): NIH, the nation's medical research agency, includes 27 Institutes and Centers and is a component of the U.S. Department of Health and Human Services. NIH is the primary federal agency conducting and supporting basic, clinical, and translational medical research, and is investigating the causes, treatments, and cures for both common and rare diseases. For more information about NIH and its programs, visit www.nih.gov.
Media access: Radio programs/stations may, for a fee, use an on-campus ISDN line to interview UC Irvine faculty and experts, subject to availability and university approval. For more UC Irvine news, visit news.uci.edu. Additional resources for journalists may be found at communications.uci.edu/for-journalists.
If you'd like to learn more about how you can support the faculty and research at the Biological Sciences School, please contact Andrew DiNuzzo at 949.824.2734 or adinuzzo@uci.edu.