Two Bio Sci students named Fulbright Scholars
Of the four UC Irvine students awarded prestigious Fulbright grants, two are Biological Sciences majors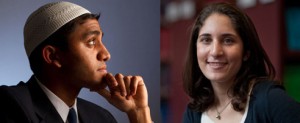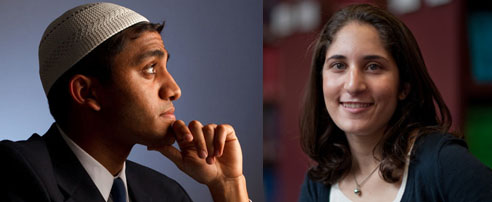 Armaan Ahmed Rowther (pictured left) and Soraya Azzawi (pictured right), both seniors graduating in June 2013, will conduct research in Jordan. This is the first time UC Irvine students have been placed in that country. To learn more about the Fulbright Scholars, click here.
Here's a little more about Bio Sci's Fulbright Scholars:
Armaan Rowther
Major: Biological Sciences major, Public Health Policy minor
Graduation date: March 2013 (I graduated this past winter quarter and will be walking at Commencement this June)
Country: Jordan
Description of research/teaching/study project: My proposed research project will evaluate the feasibility and effectiveness of merging a computer-aided diabetes education program with existing diabetes testing services among residents of the Baqa'a Camp and other Palestinian refugee camps around Amman, Jordan. The results, based on measured learning and clinical improvement, will hopefully contribute toward better care and understanding of diabetes management and prevention in resource-limited settings.  The project will be conducted in partnership with the Institute for Family Health of the King Hussein Foundation.
How grant project ties into your overall academic/career goals: My project explores the role of portable computer technology in cardiometabolic disease prevention and management with the potential of informing health systems strengthening among refugee populations across West Asia-North Africa.  I believe that my experience as aFulbright scholar will serve as an essential litmus test and learning experience toward my goal of pursuing a career dedicated to reducing global health disparities.  Prior to my matriculation in the MD-PhD program in epidemiology at Johns Hopkins University and the Bloomberg School of Public Heath, I hope to cultivate the language skills, research experience, and intercultural understanding necessary for creating collaborative efforts as a future physician-epidemiologist across disciplines, institutions, and borders to address the pervasive and persistent burden of inequities in health delivery and outcomes.
What winning means to you personally: When I was young, I internalized an ethic of service inherited from my late grandfather Ataullah Khwaja ans his efforts to empower communities uprooted and marginalized by conflict through his diplomatic service for Pakistan and the United Nations in the 1960s, after having lived through conflict in Ladakh and exile from his home in Lhasa, Tibet.  This ethic of service has since guided me toward a life dedicated to improving international relations by promoting health as a human right.  In the footsteps of my grandfather, I crossed every possible border to conduct conflict resolution field study in Washington DC, Israel-Palestine, and Jordan in the summers of 2010 and 2011.  While visiting families in their homes, I observed how the burden of post-conflict reconstruction and consequences of displacement often weigh most heavily on women and children among the uprooted. Studying refugee camps, I directly witnessed how social fragmentation can stem from poverty and lack of access to education, health care, and the legal system. I gained a greater understanding of public health challenges and disparities facing 27 million refugees living across North Africa-West Asia, insights that have profoundly deepened my passion for health empowerment at the transnational level.  The Fulbright U.S. Student award represents to me an opportunity to continue in my grandfather's footsteps and to pursue the compelling connection between providing direct care and pushing conventional limits of knowledge in what has become my highest aspiration: to heal, discover, and and empower as a physician-epidemiologist and international health.  My fiancé Mehwish Shakeel and I are excited for this opportunity and hope to depart for Jordan after our graduation from UCI this June and wedding this summer, as she prepares to defer her graduate studies in International Affairs for one year to accompany me abroad.
Soraya Azzawi
Major: Double major in neurobiology and political science.
Description of research/teaching/study project: I will undertake public health research and explore psychosocial health conditions among Iraqi refugees in Jordan.
Interesting fact: I was also awarded UC Irvine's 2012-13 XIV Dalai Lama Endowed Scholarship.
If you'd like to learn more about you can support undergraduate and graduate students at the Biological Sciences School, please contact Andrew DiNuzzo at 949.824.2734 or adinuzzo@uci.edu.