UCI-led study creates new memories by directly changing the brain
Findings could prove helpful in understanding and resolving learning and memory disorders
Irvine, Calif., Sept. 10, 2013 — By studying how memories are made, UC Irvine neurobiologists created new, specific memories by direct manipulation of the brain, which could prove key to understanding and potentially resolving learning and memory disorders.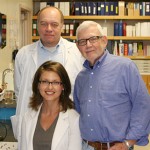 (Pictured left to right: Alexandre A. Miasnikov, Kasia Bieszczad and Norman Weinberger)
Research led by senior author Norman M. Weinberger, a research professor of neurobiology & behavior at UC Irvine, and colleagues has shown that specific memories can be made by directly altering brain cells in the cerebral cortex, which produces the predicted specific memory. The researchers say this is the first evidence that memories can be created by direct cortical manipulation. Study results appeared in the August 29 issue of Neuroscience.
During the research, Weinberger and colleagues played a specific tone to test rodents then stimulated the nucleus basalis deep within their brains, releasing acetylcholine (ACh), a chemical involved in memory formation. This procedure increased the number of brain cells responding to the specific tone. The following day, the scientists played many sounds to the animals and found that their respiration spiked when they recognized the particular tone, showing that specific memory content was created by brain changes directly induced during the experiment. Created memories have the same features as natural memories including long-term retention.
"Disorders of learning and memory are a major issue facing many people and since we've found not only a way that the brain makes memories, but how to create new memories with specific content, our hope is that our research will pave the way to prevent or resolve this global issue," said Weinberger, who is also a fellow with the Center for the Neurobiology of Learning & Memory and the Center for Hearing Research at UC Irvine.
The creation of new memories by directly changing the cortex is the culmination of several years of research in Weinberger's lab implicating the nucleus basalis and ACh in brain plasticity and specific memory formation. Previously, the authors had also shown that the strength of memory is controlled by the number of cells in the auditory cortex that process a sound.
UC Irvine postdoctoral scholar Kasia Bieszczad and research associate specialist Alexandre A. Miasnikov contributed to the study, which was funded by the National Institute on Deafness and Other Communication Disorders, which is part of the National Institute of Health (grant DC-010013).
If you are interested in learning more about how to support research conducted by Dr. Weinberger or another faculty at Bio Sci, please contact Andrew DiNuzzo at adinuzzo@uci.edu.
Media Contact:
Andrea Burgess
949-824-6282
andrea.burgess@uci.edu
About the University of California, Irvine: Located in coastal Orange County, near a thriving employment hub in one of the nation's safest cities, UC Irvine was founded in 1965. One of only 62 members of the Association of American Universities, it's ranked first among U.S. universities under 50 years old by the London-based Times Higher Education. The campus has produced three Nobel laureates and is known for its academic achievement, premier research, innovation and anteater mascot. Led by Chancellor Michael Drake since 2005, UC Irvine has more than 28,000 students and offers 192 degree programs. It's Orange County's second-largest employer, contributing $4.3 billion annually to the local economy.
Media access: Radio programs/stations may, for a fee, use an on-campus ISDN line to interview UC Irvine faculty and experts, subject to availability and university approval. For more UC Irvine news, visit news.uci.edu. Additional resources for journalists may be found at communications.uci.edu/for-journalists.