UCI-led team develops more accurate model of climate change's effect on soil
Model accounts for how in-ground carbon is affected by bacteria and fungi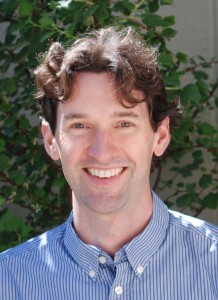 Irvine, Calif., August 1, 2013 — Scientists from UC Irvine and the National Center for Atmospheric Research have developed a new computer model to measure global warming's effect on soil worldwide that accounts for how bacteria and fungi in soil control carbon.
They found that soil outcomes based on their microbial model were more reliable than those forecast by traditional models. Study results appeared in the July 28 issue of Nature Climate Change.
While standard models project modest carbon losses with global warming, the microbial models generate two novel scenarios: One is that global soil will accumulate carbon if microbial growth declines with higher temperatures. The second assumes that microbial growth increases with global warming, resulting in large soil carbon losses, meaning much more carbon will be released into the atmosphere.
"The microbial soil model is extremely important to understanding the balance of carbon in the soil versus the atmosphere and how carbon mass in soil is affected by these bacteria and fungi," said senior author Steven Allison, associate professor of ecology & evolutionary biology and Earth system science at UC Irvine. "Our hope is that this new soil model will be applied to the global Earth system models to better predict overall climate change."
The researchers also discovered that in cases of increased carbon input to soil (such as carbon dioxide or nutrient fertilization), microbes actually released the added carbon to the atmosphere, while traditional models indicate storage of the additional carbon. This, they said, is further evidence that the Earth system models should incorporate microbial impact on soil to more accurately project climate change ramifications.
"In our microbial model, we directly simulate how the activity of organisms like bacteria and fungi control the storage and losses of soil carbon," said Will Wieder, a postdoctoral scientist with the National Center for Atmospheric Research in Boulder, Colo. "Now that we can more accurately measure what happens to soil as temperatures increase, we hope to study the potential effects of soil carbon fluctuations within a changing environment."
Gordon Bonan of the National Center for Atmospheric Research also contributed to the study, which was supported by National Science Foundation grants AGS-1020767 and EF-0928388 and the U.S. Department of Energy.
If you would like to read the full paper, please contact UC Irvine School of Biological Sciences Director of Communications, Andrea Burgess, or view the Nature Climate Change article.
If you are interested in learning more about how to support research conducted by Dr. Allison or another faculty at Bio Sci, please contact Andrew DiNuzzo at adinuzzo@uci.edu.
About the University of California, Irvine: Located in coastal Orange County, near a thriving high-tech hub in one of the nation's safest cities, UC Irvine was founded in 1965. One of only 62 members of the Association of American Universities, it's ranked first among U.S. universities under 50 years old by the London-based Times Higher Education. The campus has produced three Nobel laureates and is known for its academic achievement, premier research, innovation and anteater mascot. Led by Chancellor Michael Drake since 2005, UC Irvine has more than 28,000 students and offers 192 degree programs. It's Orange County's second-largest employer, contributing $4.3 billion annually to the local economy.
Media access: Radio programs/stations may, for a fee, use an on-campus ISDN line to interview UC Irvine faculty and experts, subject to availability and university approval. For more UC Irvine news, visit news.uci.edu. Additional resources for journalists may be found at communications.uci.edu/for-journalists.