UCI study shows grafted limb cells acquire molecular 'fingerprint' of their new location
Findings further creation of regenerative therapies for humans
Contact: Andrea Burgess
949-824-6282
andrea.burgess@uci.edu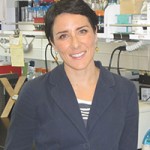 Irvine, Calif., Oct. 24, 2013 — Cells triggering tissue regeneration that are taken from one limb and grafted onto another acquire the molecular "fingerprint," or identity, of their new location, UC Irvine developmental biologists have discovered.
The findings – which counter conventional thought in regeneration biology – provide a better understanding of how grafted tissue changes its identity to match the host tissue environment during the process of limb regeneration. They also bring scientists closer to establishing regenerative therapies for humans.
By examining cells from blastema tissue in salamanders – amphibians that can regrow lost limbs – the researchers learned that grafted tissue does not spur growth of structures consistent with the region of the limb it came from, but rather it transforms into the cell signature of the limb region it's been grafted onto. This ability of cells to alter identity from the old location to the new location is called positional plasticity.
"This work provides the first piece of molecular evidence supporting the idea that early- and late-stage blastema cells receive information about the 'blueprint' of the missing limb from the host site," said Catherine D. McCusker, postdoctoral fellow in developmental & cell biology and lead author on the study.
The blastema is a group of cells that accumulate at the site of a severed limb in organisms such as salamanders and re-create the missing appendage. It's formed when regenerating nerve fibers from the limb stump interact with thin skin that covers the surface of the wound. This interaction attracts cells from the stump tissue that undergo a process called dedifferentiation, in which the cells revert to a more embryonic state. Once a blueprint of the missing limb structures is established in the blastema, these cells gradually differentiate into the replacement limb.
In her study, McCusker found that signals from nerve fibers played a crucial role in sustaining the cells' ability to change their identity to suit a new environment throughout the course of regeneration. She hypothesizes that it's important for the nerve fibers to maintain positional plasticity in the blastema until a complete blueprint of the new limb is formulated.
These findings also have potential implications in cancer biology, as cancer cells too are strongly influenced by the surrounding tissue environment.
"Our study shows that the blueprint, which drives the behavior of cells, can be manipulated," McCusker noted. "Thus, understanding how differing environments affect blastema cell behavior will provide valuable insight into how to control the behavior of cancer cells."
The results challenge the conventional assumption in regeneration biology that cellular properties are predetermined.
To access the study, which appeared in the Sept. 27 issue of the open-access journal PLOS ONE, go to http://www.plosone.org/article/info%3Adoi%2F10.1371%2Fjournal.pone.0077064.
David M. Gardiner, professor of developmental & cell biology at UC Irvine, also contributed to the study, supported by the U.S. Army Research Office Multidisciplinary University Research Initiative (TUL 589-09/10). McCusker's work was supported by a postdoctoral fellowship from the American Cancer Society (PF-12-145-01-DDC).
About the University of California, Irvine: Located in coastal Orange County, near a thriving employment hub in one of the nation's safest cities, UC Irvine was founded in 1965. One of only 62 members of the Association of American Universities, it's ranked first among U.S. universities under 50 years old by the London-based Times Higher Education. The campus has produced three Nobel laureates and is known for its academic achievement, premier research, innovation and anteater mascot. Led by Chancellor Michael Drake since 2005, UC Irvine has more than 28,000 students and offers 192 degree programs. It's Orange County's second-largest employer, contributing $4.3 billion annually to the local economy.
Media access: Radio programs/stations may, for a fee, use an on-campus ISDN line to interview UC Irvine faculty and experts, subject to availability and university approval. For more UC Irvine news, visit news.uci.edu. Additional resources for journalists may be found at communications.uci.edu/for-journalists.
If you'd like to learn more about how you can support the faculty and research at the Biological Sciences School, please contact Andrew DiNuzzo at 949.824.2734 or adinuzzo@uci.edu.