UCI team gets $5 million to create stem cell treatment for Huntington's disease
CIRM funding will support effort to advance therapy into clinical trials
I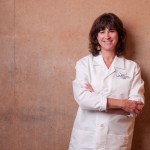 rvine, Calif., March 26, 2015 — Leslie Thompson of the Sue & Bill Gross Stem Cell Research Center at UC Irvine has been awarded $5 million by the California Institute for Regenerative Medicine to continue her CIRM-funded effort to develop stem cell treatments for Huntington's disease.
The grant supports her next step: identifying and testing stem cell-based treatments for HD, an inherited, incurable and fatal neurodegenerative disorder. In this project, Thompson and her colleagues will create an HD therapy employing human embryonic stem cells that can be evaluated in clinical trials.
Over the past seven years, Thompson, a UCI professor of psychiatry & human behavior and neurobiology & behavior, and her team have used CIRM funding to produce stem cell lines "reprogrammed" from the skin cells of individuals carrying the Huntington's genetic mutation in order to study the disease. In addition, they conducted basic and early-stage transitional studies to develop a stem cell-based technique to treat areas of the brain susceptible to HD.
If you'd like to learn more about how you can support the faculty and research at the Biological Sciences School, please contact Andrew DiNuzzo at 949.824.2734 or adinuzzo@uci.edu.