Community Spotlight – Nikki Iravani, O.D. (1982, 1986)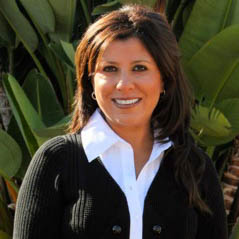 Dr. Nikki Iravani completed her undergraduate degree in Biological Sciences at UC Irvine before pursuing a career as an optometrist.
"It was important for me to gain some professional experience while attending my classes at the Biological Sciences School.  The time I spent both in the classroom, and working in an optometrist's office helped to solidify my decision to pursue a career in optometry."
Dr. Iravani did more than just work a part time job at a local optometrist's practice while being an undergraduate bio major. Since a student group dedicated to pursuing careers in optometry didn't exist, Dr. Iravani decided to start the first ever optometry club at UCI.  The "U SEE EYES" optometry club was founded with 88 students attending its first meeting, and has since become a valued resource in assisting Biological Sciences School students interested in pursuing careers in optometry.
"When I founded "U See Eyes", I envisioned an organization that would promote professional development for students interested in optometry and vision care and an opportunity to learn about all aspects of the profession, from clinical research to clinical practice".
After graduating from UCI, Dr. Iravani later received her doctor of optometry degree from the University of Houston, College of Optometry.  She subsequently returned to Orange County for a few years and became involved with clinical research at Allergan, as well as clinical practice in Newport Beach. Her next venture in life would take her to the Bay Area were she ultimately began working for CooperVision, the world's second largest contact lens manufacturer.  Dr. Nikki Iravani worked as the Vice-President of Clinical and Professional Affairs for CooperVision for several years before moving on.
Later, Dr. Iravani founded Global EyeVentures and successfully launched EyeXam, the eye care industry's leading mobile app.  EyeXam is a patented method for a self-guided vision screening using a mobile device, and allowing users to quickly and easily locate a nearby eye care provider.  EyeXam has had 1.5M consumer downloads and was featured on ABC World News with Diane Sawyer.  The successful release of the EyeXam App has ushered in a new chapter in Dr. Iravani's already successful career.
"The primary purpose is to educate the public on the importance of professional eye examinations and drive more patient traffic to eye care practices."
Dr. Iravani has many fond memories of her years attending UCI.  She recalls how important the knowledge gained at the Biological Sciences School was to the development of her professional career.  However, the impact wasn't just felt by Dr. Iravani, her impact on the campus can also be felt by all students who participate in the U See Eyes optometry club she founded.
To learn more about how you can become more involved with students and programs at the Biological Sciences School, please contact Brian Han bhan5@uci.edu or Andy DiNuzzo adinuzzo@uci.edu.