Staff Spotlight: Larry R. Herman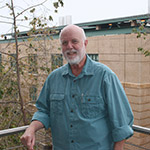 Larry R. Herman has been at the Biological Sciences School since 1965, starting as a student and part of the first graduating class. Larry has served the Biological Sciences School for nearly 50 years, starting in the lab of Dr. Grover Stephens and eventually rose to the position of Academic Coordinator involved with the undergraduate teaching laboratories.
"The thing that I enjoy most at UCI is the intellectual environment on campus," shares Larry. "Where else can you interact with people at the leading edge of research in practically any topic of research?"
Larry shares that the most rewarding aspect of his job is the interaction with students mentoring them through their career and challenges. He shares that while he takes his job very seriously, he also tries to incorporate a sense of humor into everything.
Reflecting on his time at UCI, Larry shares that his memorable experiences began back in 1965 when he was part of a brand new institution that allowed the members, both employees and students, to set the tone for the future development of the campus. "It has been a continually enlightening experience watching the campus grow and evolve over its entire existence," shares Larry. "I was one of the people that voted for the anteater as the campus mascot and have been here longer than every tree."