Student Spotlight: Bio Theme House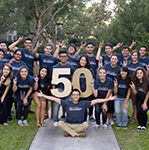 Did you know that the School of Biological Sciences has an undergraduate house? In the Halls of Mesa Court, there is a Biological Sciences Interest Hall geared towards students with or developing an interest in Biological Sciences. The primary purpose of the Biological Sciences Interest theme is to help cultivate a supportive and friendly environment for those who share an interest in Biological Sciences. At least 80 percent of the residents in the residence hall are studying Biological Sciences, and this provides the residents with the opportunity to create close study groups and connect with others interested in biological sciences. Although it is a Biological Sciences Interest Hall, the students do know how to have fun!
We spoke with Keith Yuen, one of the Bio Sci Peer Advisors and a Resident Advisor of the Bio Interest Hall to find out more about life in the Hall:
Q. How long have you been involved with the Bio Theme House?
A. This is my first year being the Resident Advisor of the Biological Sciences Interest Hall, and so far it has been a wonderful and enlightening experience.
Q. How has your involvement impacted your experience at UCI?
A. One of my biggest aspirations here at UCI as a first year was to become an RA myself. Although it is still only the first quarter of the year, I have gained many valuable friendships, and with that, unforgettable experiences. This opportunity to serve as a role model, resource, and most importantly, friend to my residents is one of the most rewarding opportunities I've had at UCI. To this day, it has only positively impacted my time here at UCI! It makes me very happy to be able to be there for my residents whenever they need me, especially because some may find the difference between living at home and living on a college campus challenging.
Q. What impact does Bio Theme House have on your and other students' lives?
A. Living in a Biological Sciences Interest hall has proven to be its own present in disguise. It allows residents to live with students in their same major. This is a great resource for students because studying in groups is a valuable and effective study method. In addition, residents are given the chance to build friendships and connections with fellow students whom share the same aspirations, passions, interests and dreams. Many of them are working towards the same goal, together. I have seen this single common interest foster many valuable relationships. It has done the same for me. As aforementioned, through this hall, I have built many unforgettable friendships and bonds, and I am so excited for the year to continue on.
Q. Tell us about the visit from the Bio Sci Student Affairs Counselors in November.
A.The counseling visit last week was a way for the residents to feel more connected to the campus by getting to know the Biological Science counselors on a more personal level. I plan for this to be a quarterly event, as the counselors are one of the best resources on campus!
If you'd like to learn more about you can support undergraduate and graduate students at the Biological Sciences School, please contact Andrew DiNuzzo at 949.824.2734 or adinuzzo@uci.edu.